HOLE 2 SOUTH COURSE in GOLF WORLD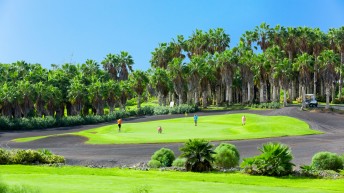 GOLF WORLD´S December Magazine published a special Section about 100 CLASSIC GOLF HOLES, a unique collection of some of the finest holes across United Kingdom and Continental Europe. The 2 HOLE OF SOUTH COURSE  is one of them .
To elaborate the list they solicited the opinions from a wide range of architects and golf designers, journalists, Tour Professionals and travelling golfers troughout the Uk and Europe ( experts as : Peter Allis, Martin Hawtree, David Mclay Kidd, Peter Mcevoy).
HOLE 2 SOUTH COURSE, par 3, hándicap 6, 196 mts.  This hole is well known as "THE FRIED EGG" , the green is surrounded by a huge bunker, which like all the sand traps here,is full of black, volcanic sand; to be avoid al all costs.