The general management of Golf del Sur, aware of the limitation of natural resources, especially in the Canary Islands, and of the environmental impacts associated with the development of our activity, started in 2004 the implementation of an environmental management system: UNE-EN ISO 14.0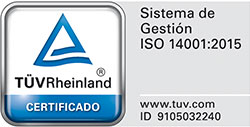 At the time  not only we designed our environmental policy, but appointed a specific responsible for the environment department, committing ourselves to the periodic review of our activity, products and services, verifying always the fulfillment of our policy and seeking continuous improvements of this implementation.
Aware of the importance of maintaining our environment, we have developed an environmental management system that prevents the negative impacts associated with the activity of the golf course. Our facilities and services must always be designed taking into account the objective of optimizing the sustainability of the golf course, preventing pollution and minimizing negative impacts, criteria to be taken into account in all present and future developments.
We are aware of the impacts that our golf course generates, therefore our aim is to improve the sustainable management, assuming the commitment to continuous improvement in all areas of sustainability: social, economic and environmental, always in order to increase the satisfaction of the client.
In the same way, we acquire the commitment of the fullfillment of all legal requirements or others related to environmental legislation of the golf course.
Our approach must be characterized by objectivity, acquiring the commitment of raising the awareness of all Golf del Sur personnnel  to the principles laid down in this document, of which delivery is done to them.
This policy will be reviewed every year and will be adapted to the realities of Golf del Sur, the game of golf and the destination in which it is located.
REVIEWED AND APPROVED – 15th june of 2018
Reviewed and approved: D. Zacarías M. Galindo González, President